Olympic Architecture Part 2 : National Aquatics Center
Tags: national aquatics center, architecture, olympics, beijing
Part 2 of Olympic Architecture takes us to the National Aquatics Center. Not only is the design revolutionary, it's sustainable - the building and flooring function as a sort of greenhouse. Photos, video, and info. below.
Beijing National Aquatics Center 北京国家游泳中心 Běijīng Guójiā Yóuyǒng Zhōngxīn (Water Cube 水立方 shuǐ lìfāng)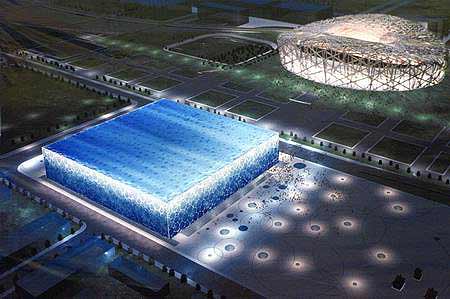 In Chinese culture, water is an important natural element. It creates a calming atmosphere and inspires happiness.
The extraordinary design concept is seen as a symbol of architecture as it fulfils all up-to-date requirements on design, sustainability, and safety.
The National Aquatics Centre has been designed to act as a gigantic greenhouse. The unique prototype cladding which is based on the natural formation of soap bubbles allows high levels of natural daylight into the building to heat the interior as well as the pool water.
Energy consumption is thus expected to be reduced by up to 30 percent. Beside sustainability and energy cost reduction, safety was crucial. All materials used had to fulfil the highest demands of fire safety.
Other high-tech facilities including optical devices used to define positions of athletes, and multiple-angle, three-dimensional screening systems are provided to help spectators enjoy competitions.

The National Swimming Center will be the only landmark Olympic venue that is constructed by donations from compatriots from Hong Kong and Macao. The project cost approximately 684 million yuan (100 million USD, 63 million EUR).
Comments (8)
New lesson idea? Please contact us.