Cars buzz by. Crowds of people push through. Buses cut off pedestrians as they try to cross the street. Hello Shanghai! You have just arrived in China's largest and wealthiest city. This eastern port city is beautiful, bustling and crowded with a population of over 20 million people. It feels like you've entered another world where anything can happen and everything is possible… with one exception: hailing a cab.
Empty taxis rush by one by one, yet none of them seem to notice you. For some strange reason they seem to pass right by you but stop for others. You start to feel a mix of frustration and bewilderment as you stand there on the side of the road with your arm extended out, waving frantically at each cab that drives by. Finally, a cab stops to drop off its passengers. You try to climb in, but the driver starts to yell at you in Mandarin. What's going on? Wouldn't cab drivers jump at the chance to take eager and confused tourists to their destination?
That might have been the case a couple of years ago. But times have changed. China has changed. And in Shanghai, a few months of change is equivalent to a few years in the Western world. Getting from point A to point B efficiently is of utmost importance, and nothing and no one in Shanghai can afford wasted time. China's transportation methods are no exception. So how does one hail a cab in Shanghai anyway? Here are two increasingly popular methods that utilize your smartphone and will prove to be a huge asset in your transportation efforts.
1. Didi Chuxing | 滴滴出行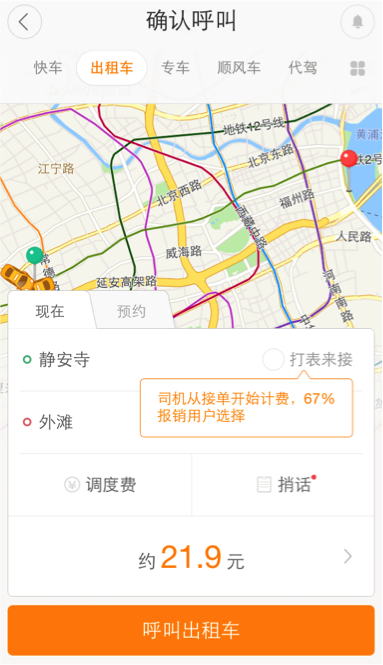 Do as the locals do: book a cab with Didi Chuxing | 滴滴出行(previously known as Didi Dache | 滴滴打车). Established around four years ago, this Chinese company allows you to book a taxi using your smartphone and is China's leading taxi booking app—even more popular than the ubiquitous Uber. Didi Chuxing literally translates as "honk honk commute" and offers Shanghai residents a couple great benefits: the convenience of booking a cab online, the assurance of metered rates, and the comfort of knowing that cab drivers are employed with legitimate taxi companies. Furthermore, they are usually experienced, full-time drivers who know the ins and outs of Shanghai traffic and back-roads.
What they may lack in English ability is often made up by their extensive knowledge of the city streets and traffic patterns, which provides you with the fastest route to your destination. Another benefit of using Didi Chuxing is that you have the option to pay with cash upon arrival at your destination, making it easier for tourists who don't want to bother setting up an account.
The downside is that the app is still only available in Chinese, making it a challenge for beginning Mandarin learners. However, even if your Mandarin skill is not up to par, the app can be easy to navigate around by just remembering the main icons and looking up your destinations in Chinese before entering them in the app.
2. Ride in style (or not) with Uber (Yōu bù|优步)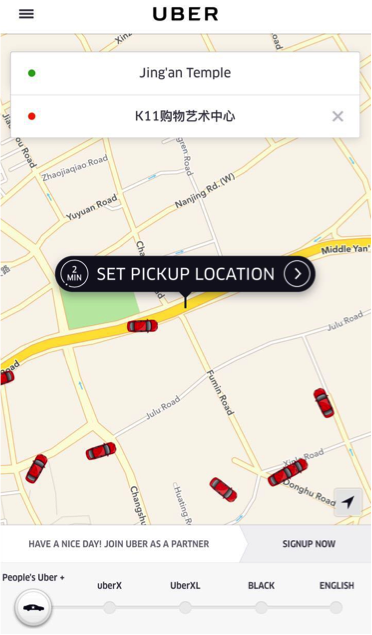 Uber, on the other hand, exploded on the scene a few years ago, bringing local Chinese taxi booking companies like Didi Chuxing stiff competition. The fundamental difference between Didi Chuxing and Uber is that Uber drivers are mostly regular citizens using their own personal car and may not have any professional driving experience.
It can be exciting to find out whether you will end up in a flashy Mercedes Benz or trusty Toyota. I've even been told a story of one Shanghai expat ending up in a Hello Kitty decorated Volkswagen Beetle. One major benefit for expats and tourists is that the Uber app is available in English, making it easier to navigate for non-Mandarin speakers.
For tourists, however, an account and online payment method needs to be set up with the app, which may be a deterring factor if only visiting Shanghai for a short time.
Uber in China offers various service levels, and associated price points, from which customers can choose from, allowing one to tailor choice to personal preference and needs, especially in relation to comfort and English language ability of drivers.
If you're a price-conscious customer, choose one of the lower-priced standard options like People's Uber or Uber X. These two options usually provide drivers who are regular local citizens working as a driver on the side and are interested in making small talk with people from around the world. However, it's not guaranteed your driver will know the roads as well as traditional taxi drivers– it may even be a brand new driver taking their very first customer for a ride!
In 2015, I caught a People's Uber in Shanghai and was pleasantly surprised to find out that my driver was very knowledgeable about my home country, educated, quite fluent in English, and had a friendly demeanor. However, I noticed he regularly used his smartphone map for directions, as he was not completely familiar with the roads. If you're willing to pay a little extra for service or for a more experienced driver, or if you need a vehicle to fit a large group, you can upgrade to one of Uber's higher-priced options. These include Uber XL for larger groups, Uber Black for a high-end vehicle, excellent service, and experienced drivers, or Uber English, which provides a drivers who are expected to be fluent in English.
---
Whether you ride with Didi Chuxing or Uber, make sure to rate your driver on the app after you complete your ride. And if you're worried about a language barrier, it's always a good idea to write down your destination in Chinese characters in advance to show the driver, just in case.
Shanghai is one of the world's fastest paced cities and is constantly in a state of change, progression and economic growth. If you plan on visiting within the next year, there's a good chance there may already be a new taxi booking app taking the market by storm… or even a new service that changes the way one hails a cab altogether. Just remember, if all else fails, you could always try out the expansive yet inexpensive metro system or local bus route to get to your destination, offering a completely different yet very local experience getting around in this wonderful and always bustling Chinese city that is Shanghai.
Have you recently visited Shanghai or are you currently living there? Share your experiences about taking a cab or using China's taxi booking apps in the comments below.
Useful Mandarin phrases for a smooth cab ride:
Taxi Chūzū chē |出租车
How much is it? Duōshǎo qián |多少钱?
At the next light, turn left/right: Xià yīgè hónglǜdēng, wǎng zuǒ/yòu guǎi |下一个红路灯,往左/右拐
Stop: Tíng chē |停车!
I want to go to …: Wǒ yào qù | 我要去 …
You're going the wrong way! Nǐ zǒu cuò lù! | 你走错路!
What's the other secret to catching a cab in China? A subscription to ChinesePod. With over 3,500 lessons to choose from, including over twenty about catching a cab, learn the language you need. Get a Premium Annual subscription for $50 off  with code CPODBLOG. Click here to sign up today and see why over a million learners have used ChinesePod to master Mandarin:


Eng Chan is a Finance and Business Operations professional, with a passion for language learning and writing on the side. As a Canadian-born Chinese, whose first language is English, she became interested in learning Mandarin during university. Since then, her passion for learning the language took her to Taiwan, where she credits most of her Mandarin fluency. Eng is an avid traveler, who loves to experience different cultures and cuisines.Her favourite ChinesePod lesson is Meditation 冥想 -- a hobby that she recently took up.