This is a guest post from friend of the site, Furio of Saporedicina.com. I've been a long time fan of Furio's and it's a great pleasure to share some of his ideas on our new blog. To read more about Furio, check out this page. 
Why is it important to turn your study of Chinese into a habit?
Learning a foreign language requires consistency and Chinese is no exception. Read more to find out what I believe to be the most important piece of advice I can give you for learning Mandarin.finding the right motivation. If you can't manage to keep your motivation up, you risk forgetting your original objectives and returning to the same old routine (which instead of studying Chinese calls for two hours a day on Facebook).

But what is the best way to maintain motivation over time? For some "paying for it" is more than enough: you enroll in a Chinese course and, since you've invested a certain amount of money, you feel obligated to attend the course and study regularly. I don't deny that this can help you; often however it isn't enough.
Therefore, besides getting engaged to a Chinese person that doesn't speak any other language, the best strategy is to turn your study of the language into a daily habit.
Why? The reason is that, by definition, a habit is an action that we carry out in a semi-automatic manner, without thinking a lot.
How long does it take to form a new habit?
Different scientific studies seem to demonstrate that forming a new habit requires 21 days. Contrary to what is often said, three weeks isn't always enough. Rather, the very same studies tell us that up to eight months may be necessary to form a new habit.
Here are my suggestions for successfully transforming your study of Chinese into a habit (and for doing so in the least amount of time possible):
Commit yourself publicly
Despite, as was already said, the fact that it may take more than just three weeks to form a new habit, the first period is often the hardest. If you don't have strong motivation – such as passing a test at university, – you have to create one.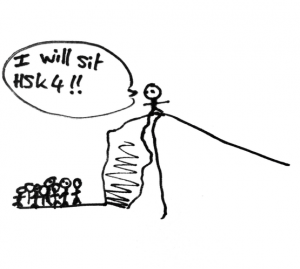 The best way to go about this, in my opinion, is to set a medium-term goal (such as understanding a Chinese film without subtitles within a year) and then announce it to the world.
Tell it to your partner and to your friends, post it on Twitter or your personal blog. Give a hundred Dollars to your brother and tell him that he'll have to give it back to you within a year only if you reach your goal. In short, make it so your life will be difficult if you fail to reach your objective. The fact of being publicly compromised will help you to study every day and maintain motivation.
[Editor's note: You could check out Beeminder.com for putting setting goals with a monetary incentive-see video below.]
Personally this is how I managed to make studying characters a daily habit and to learn to write all Chinese characters up to level HSK4, (namely more than a thousand characters).
Take advantage of dead time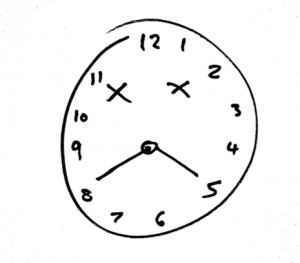 Are you stuck spending 45 boring minutes every day on a bus just to get to work? Take advantage of that time to study! Nowadays there are various excellent apps for learning Chinese. I remember that, when I worked in Hangzhou, after my bike was stolen I began going to work on foot: it took over an hour there and back; and because of that I decided to spend that time in a constructive manner, namely listening to ChinesePod.
A podcast is the best solution even for those who travel by car since you can listen to it while you drive.  Studying Chinese while on your way to work has another advantage: when you repeat the same action at the same time and in the same place it is in fact easier to develop and maintain a habit.
Keep your interest alive!
What point would there by complicating your life studying vocabulary words about a subject that doesn't interest you? Personally, when I begin to study a new language – I speak six – I always begin with food, especially if I'm in a country where they speak the language I'm studying.  There are two reasons why I prefer starting with food: the first is that I'm genuinely interested in the subject (while astrology for example leaves me totally indifferent).
The second is that I already know that each day I will find myself in a market or restaurant: this means that not only will I have the opportunity to frequently use the words I am learning (which makes forgetting them impossible); but I will also be improving the quality of my life by making ordering and eating much simpler. If you live in your own country that might seem an insignificant detail; but try going into a
Chinese restaurant without an English menu and then we'll see what's insignificant!
Start! It's as simple as that
"There's a secret that real writers know that wannabe writers don't, and the secret is this:
It's not the writing part that's hard. What's hard is sitting down to write," Steven Pressfield, The War of Art.
Pressfield expresses, through the metaphor of creative writing, a universal principle: often the hard part isn't completing the action (writing 1,000 words a day or going for a run, for example); but rather starting. Namely putting your butt in your seat and writing the first ten words or putting your gym shoes on and beginning to run.
Have you ever gone out to run and then stopped after two minutes? Me neither. Once you start, running is a pleasure. The problem, usually, is convincing yourself to begin.
One way to do so is to set daily micro-goals, such as "to run at least two minutes" or "to listen to a Chinese podcast for at least three minutes". Once you overcome the initial inertia, you'll hardly stop running before twenty/thirty minutes or turn off your mp3 before the podcast finishes.
Prepare a detailed plan
"Studying" without having a specific plan of what you want to do or what goal you seek to reach doesn't make much sense: you risk dilly-dallying, over-thinking phrases, and endlessly procrastinating.
1. Select a clear objective that is simple and measurable
2. Decide on a timeframe in which you expect to reach it
3. Evaluate how much time you can dedicate each day to language studies. Be honest with yourself, this isn't a race for who comes in first
4. Do you think your plan is doable? To explain, if you don't know one word of Chinese and you set the goal of reading The Art of War by Sun Tzu in its original language within a month's time, you'll probably have to study twenty hours a day for the next three hundred days, which seems out of the question. Give yourself a realistic goal
5. Prepare a weekly schedule, put it in black and white and keep it visible. I know that there are many apps that are designed to create new habits, but never having used one, I don't feel that I should recommend any one in particular.
[Editor's note: Lift is a nice looking app that makes it easy to set habits, following the principles of Jerry Seinfeld's "Don't break the train" method].
Evaluate the results
Since you're not a robot, every so often you'll skip a study session. Don't despair. Get yourself a calendar and write a big "'OK" next to each day you stuck to your plan and a "NO" next to each day you didn't study. After a while your brain will rebel at seeing too many "NO"s on the sheet and the "OK"s will begin to increase.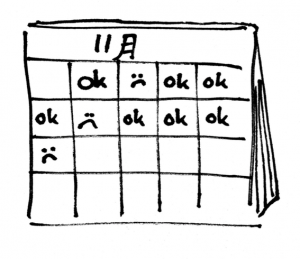 Choose one day a month (for example the first of every month) to evaluate your progress. Are you studying enough? If you're not, what's the reason? Does it seem as if you need to change something? Initial plans are never perfect and you'll probably need to make some adjustments. No problem, take note of your mistakes and impressions, modify your plan and start again!
What's your plan for learning Chinese? Just Start!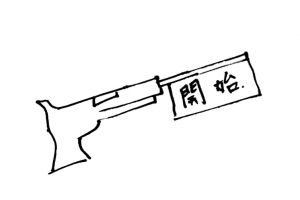 P.s: To read more articles like this, why not check out Furio's blog over at;
http://www.saporedicina.com/english/

Executive Producer
at
ChinesePod
You probably recognize Gwilym as one of the co-hosts of ChinesePod. Gwilym hails from the U.K. but has lived in Taiwan since 2012. His interests include keeping abreast of technology news, going to the cinema, and playing with his lovely cats.

Latest posts by Gwilym James (see all)