In this article I'm going to show how you can read your ChinesePod lessons on your Kindle with just 2 clicks. (You don't need to own a kindle to do this: The app is available for free on all platforms).
I've been a huge fan of the Kindle line of e-readers for a long time, and have owned the Kindle with keyboard for many happy years, but this Christmas I decided to treat myself to a gift, and bought the new flagship model, the Kindle Voyage.  I could barley justify the price difference between that and the paperwhite, which looked to have pretty much similar specs on paper, but knowing that Kindles don't go out of date nearly as quickly as smartphones, and it would be something I would be using on a daily basis, I decided to splash out.
It arrived the day before Christmas and from that day forth I haven't not used it.  The backlight* is a small yet monumental improvement and means I can read almost anywhere, at any time.
And this got me thinking.  How about using my new Kindle to study Chinese.  I've already got a number of Textbook PDF's saved on there, but how about ChinesePod material. 
How To Guide
Well first you want to be using Chrome Browser, and download the Official 'Send to Kindle' extension via the Chrome web store.
After you have associated your Kindle email with the extension, open up a ChinesePod lesson and click on the download links on the left hand side. Choose the text version for your chosen character set.
Once the page has loaded up, just click the Send to Kindle button, and seconds later you have it on your device, and you can start studying. 
Update: If you want to include the vocabulary and supplementary vocabulary, you'll need to select all the text on the page.  You can do this by pressing cmd+A (mac) or ctrl+A (PC).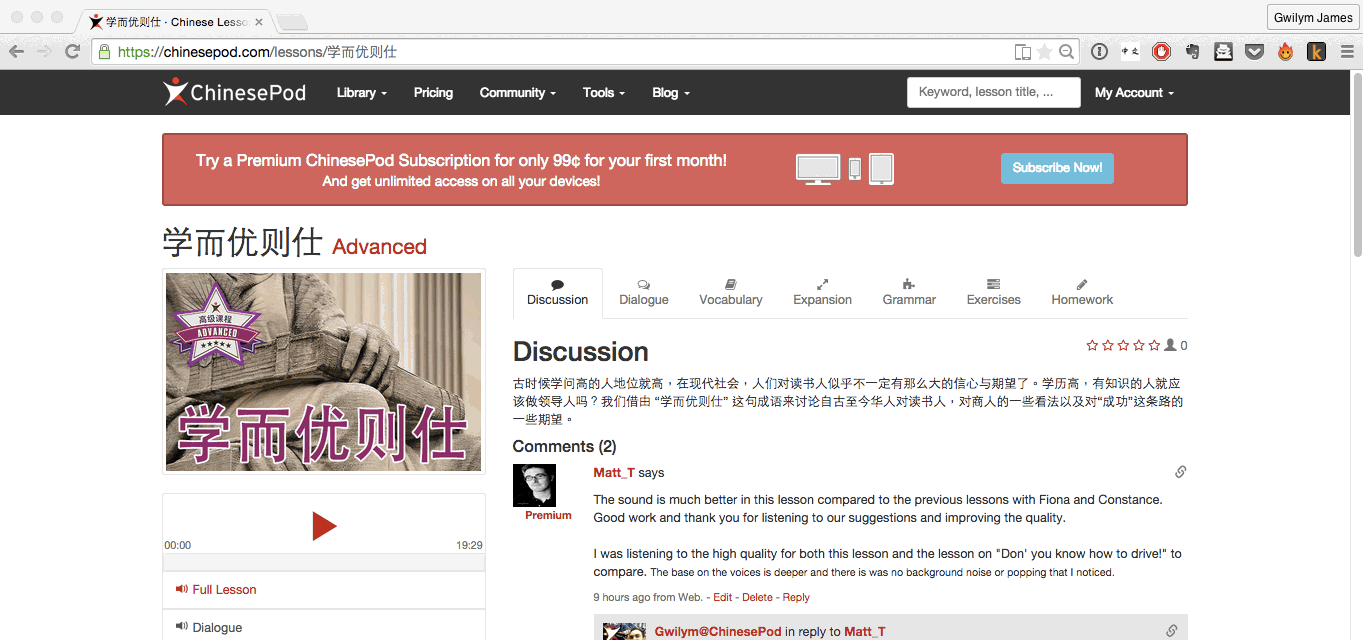 The benefits of using the Kindle for this are twofold.  One, you don't need to print out the lesson notes, saving the environment, and two, the battery lasts for weeks, so you can keep the page on while you practice writing out the sentences etc.   Also, if you have a Chinese dictionary on your Kindle, you can tap to look up words to get different example sentences. 
Let me know in the comments if anyone else uses their Kindle to study Chinese or any tips and tricks for other browsers such as Firefox. 
*The light is not technically a backlight since the LED's shine downwards onto the screen.  This is much better than a conventional iPad style experience reading because you avoid eye-strain, and there is absolutely no glare in bright sunlight.

Executive Producer
at
ChinesePod
You probably recognize Gwilym as one of the co-hosts of ChinesePod. Gwilym hails from the U.K. but has lived in Taiwan since 2012. His interests include keeping abreast of technology news, going to the cinema, and playing with his lovely cats.

Latest posts by Gwilym James (see all)