The team here at ChinesePod just want to give a big shout-out to the people at  Mandarin Weekly.
ChinesePod content is often featured in this amazing newsletter, curated for Chinese learners.
There are *lots* of online resources for people learning Chinese, including lots of blogs, videos, and tips. It's hard to keep track of these all, and even harder to know where to turn to improve your Chinese.).
That's where Mandarin Weekly steps in.  Every Monday, Mandarin Weekly gives you about 20 high-quality, curated links to online resources for people learning Chinese.    You can think of it as a "best of the Web" for people learning Chinese, updated every week to reflect the latest and greatest content.
Whether it's a vocabulary lesson about the latest Chinese holiday, or grammar patterns that you should know, or four-character sayings (cheng yu) that can come in handy, Mandarin Weekly tries to find you the best, most interesting, and most useful links.
Best of all, Mandarin Weekly is completely free of charge. All you have to do is sign up at http://MandarinWeekly.com/.  Starting with the following Monday, you'll then get a weekly dose of Chinese learning. Thanks to reader feedback, the links are now ranked according to difficulty level (beginner, intermediate, and advanced) — allowing you to focus on just the links that'll benefit you the most.
Mandarin Weekly is edited by Reuven Lerner, a freelance computer consultant who has been studying Chinese since 2014, and who travels to China several times each year for work.  Because it's edited by someone who is learning himself, you can be sure that these links will be of interest to students of Chinese, without long, boring vocabulary lists.
Spend more time learning Chinese, and less time finding new learning resources — subscribe to Mandarin Weekly.  Totally free, and aimed at students of Chinese, like you!
ChinesePod in partnership with Mandarin weekly is offering our Blog readers some discount on Annual Premium Subscriptions at ChinesePod.
Use the code MANWEEKA to get 20% off of a premium annual subscription.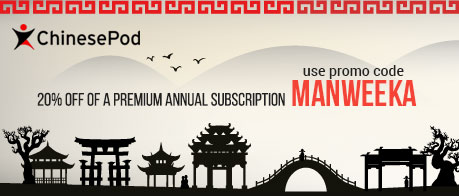 Lianca traverses the globe as a digital nomad but inevitably always end up somewhere in Asia. This is weird because, even though they have the best cuisine, the clothes don't fit her tall frame (pretty frustrating for a shopaholic). Her favourite ChinesePod lessons is 'How to Really Exaggerate Your Chinese' AKA 'Wolverine is soooo hot'.

Latest posts by Lianca Van der Merwe (see all)