Delicious dinners and family reunions. Homemade dumplings, fish and glutinous rice balls. These are just some of the traditions of the Chinese New Year for millions of people around the world. There is much to celebrate as we ring in the Year of the Dog this January 16th, but one New Year's tradition remains a favorite for a lot of people, young and old: Red Envelopes or hóngbāo|红包. These lucky red packets stuffed with cash are just as fun to give as they are to receive. But for Mandarin learners, this custom may leave you feeling nervous. Perhaps you wish to partake in the fun, but are wondering who exactly should you give them to? You could go broke trying to give a red packet of cash to everyone you know! And what is the proper way to receive a red packet? Have no fear! This Chinese New Year, learn how to give and receive hóngbāo like a true local. Below are the three things you need to know about this fun yet important Chinese New Year tradition that has stood the test of time.
Who gives and who receives?
Children are the largest receivers of hóngbāo, called Yāsuìqián| 压岁钱. Any adult can give children red envelopes, but if you are married, there is a certain expectation for you to give to the younger generation (wǎnbèi|晚辈), as your married status signifies you have started your own family. However, children are not the only receivers of lucky money. Working professionals, regardless of age, often give hóngbāo to elders (parents or grandparents), as a sign of respect known as xiàojìng | 孝敬, an important concept in Chinese culture.
Generally, it is acceptable for anyone to give a hóngbāo, except to people of similar age. That will only lead to an awkward situation that is best avoided.
How to properly receive lucky red envelopes.
Before receiving a hóngbāo, one should have a few traditional New Year's well wishes (zhùfú huà|祝福话) ready to recite, such as "Zhù nǐ xīnnián kuàilè, shēntǐ jiànkāng|祝你新年快乐,身体健康", a common wish for a happy new year and good health. Often, the children will try to come up with the wittiest phrases to recite before bravely asking for their hóngbāo. When receiving a red envelope, just remember: never open your red packet in front of the giver.
How much money should you give?
You can give as much as you wish and can afford to give. There is no standard amount, as it depends entirely on your economic situation, and your relationship with the receiver. A close relative would typically expect to receive more than a distant family friend. Just remember: crisp, new bills should be given to signify luck, and coins should be avoided.
Since 2014, red packets have also entered the digital age, as with most other things in China's booming economy. Wechat Red Envelopes can now be sent electronically, of course, reserved for those who are more technologically inclined.
Yet, there is still something beautiful about keeping to tradition. By following the above customs of giving and receiving hóngbāo this Chinese New Year, you will be sure to gain appreciation and respect of those around you who are celebrating the Chinese culture's most important holiday of the year.
Learn more about the intricacies of giving and receiving hóngbāo in Chinesepod's entertaining lesson.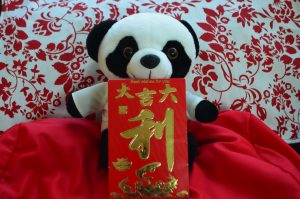 Happy Chinese New Year!
Xīnnián kuàilè! 新年快乐
Dàjí dàlì 大吉大利!
If you found this blog post interesting, you will love our special Chinese New Year's playlist. With over fifteen lessons, you have the option to learn about many different facets of the Chinese Spring Festival. Subscribe today to get access!

ChinesePod is offering a one month premium subscription for just $0.99! Check it out at http://bit.ly/2t2E7VL