My name is Nick Norton and I am a university student, as well as a fellow Poddie. In so many ways ChinesePod has been an invaluable resource to my Mandarin learning journey. Read my blog post to find out my top three reasons why ChinesePod has helped me master Mandarin.
When I was eight years old, my grandma asked me where I wanted to go for vacation that summer. Although I was born and raised in the United States, I quickly replied "China!" Unfortunately, traveling across the globe wasn't in the cards that summer, but my family soon realized how Asian culture had sparked my imagination.
Fast forward nearly thirteen years, and I'm still obsessed with China. The food, history, culture, and of course the language are all so fascinating. With over 1.3 billion people, China holds major influence in our ever-changing world. When I entered my freshman year of high school, I registered for a Mandarin class to get more connected to this significant portion of the global community. I'm happy to say that Asian Studies with a concentration in Mandarin is now my major at college, and I'm hoping to finally visit Asia sometime this year.
1.​ Keeps me focused
Language is tricky, and it's easy to be overwhelmed by all of the new information. Even though I've been studying Mandarin for a number of years, I still feel like a beginner most of the time. Vocabulary, dialogues, and classroom lessons often go in one ear and out the other – not to mention how difficult it is to have a consistent language learning practice when you don't live in the native country. For this reason, having ChinesePod with their comprehensive lesson library keeps me on track and allows me to remain on top of my Mandarin studies.
2. ​Learn language that makes sense for me
Another reason ChinesePod has been so useful, is that they have courses that are so specific that I'm able to gain valuable exposure to a range of topics. After I finish undergrad next year at Wayne State University, I'm going to move on to law school. I've often thought about how wonderful it would be to specialize in legal translation in order to maintain my rich connection with Mandarin. I'm also a yoga teacher, and I dream of someday being able to teach a yoga class in Chinese. ChinesePod has so many specific lessons, quite a few of them covering situations that allow me to learn Mandarin that aligns with my life ambitions and dreams. I feel so prepared heading into my future with these tools at my fingertips.
3. Deepens my cultural understanding
As I mentioned earlier, China is a largely significant player on the world stage. It is also home to beautiful art, delicious food, and a rich history. Knowing how to speak the language can only enhance one's cultural and historical understanding. Learning Mandarin with ChinesePod means that I'm able to learn more about Chinese cuisine, traditions, and how a Mandarin speaker might think. That way when I finally visit China, or just am at my local Chinese restaurant I know what I want to try first hand.
I'm currently reading "Debating China: The US-China Relationship in Ten Cultural Conversations" b​y ​Nina Hachigian. In the book they discuss the very complex relationship that exists between the East and West, and how there is a mutual distrust between the US and China on many fundamental issues. A large part of this misunderstanding boils down to simply failing to grasp other cultures. That's the biggest reason I'm grateful for ChinesePod: I feel like I am slowly eroding that cultural miscommunication by learning more Chinese. There is so much more to learn, but the beauty of experiencing China as a Mandarin speaker is just waiting to be had. Thank you ChinesePod for helping me take full advantage of that opportunity!
Scroll down for an infographic on how ChinesePod can help you discover the treasure of learning Mandarin! Don't miss the exclusive offer at the bottom of page.
---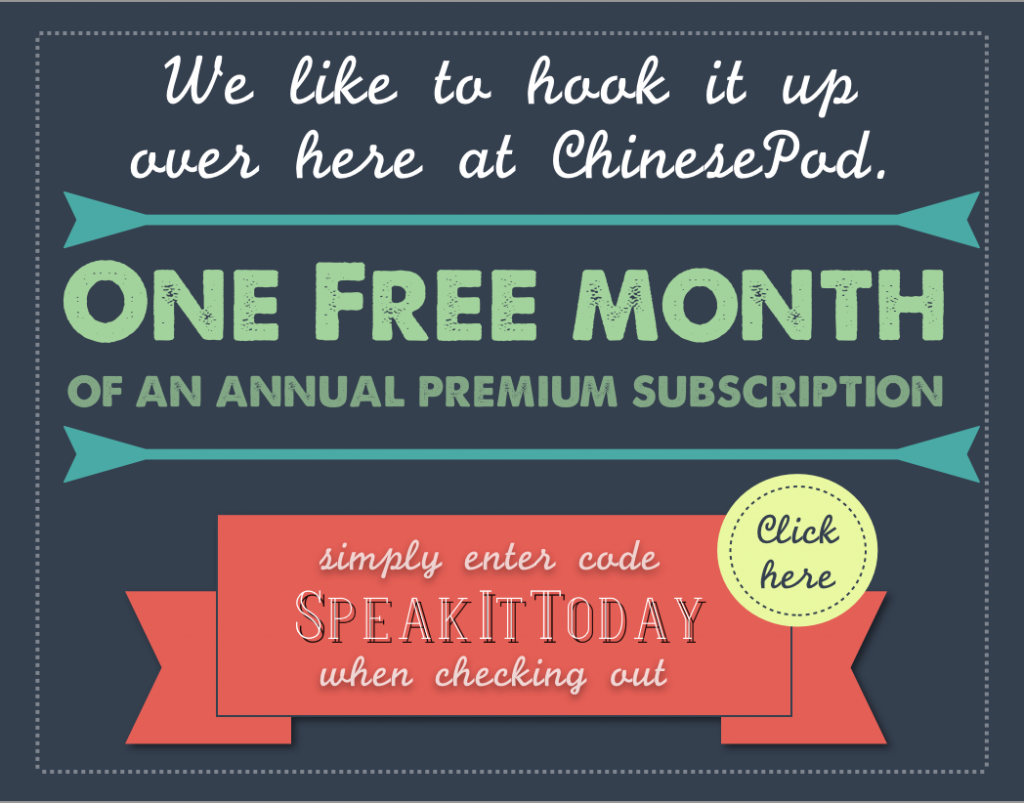 Karl graduated from Tulane University in New Orleans but is originally from Seattle, WA. He is a new learner of Chinese, and enjoys comparing the similarities and differences with learning Japanese, a language he studied for six years. Karl is interested in literature, long-distance running, skiing, hiking, and cycling... and cheese. He loves cheese. In fact, his favorite ChinesePod lesson is "Smelly Cheese".

Latest posts by Karl Ryan (see all)