Over 2000 years ago, The Dragon Boat Festival, also named 端午节 (duān wǔ jié) officially became a traditional holiday in China. It commemorates the ancient Chinese poet, Qu Yuan (340-278 BC). The holiday originated in Southern China and slowly became more and more popular in provinces such as Jiangsu, Zhejiang, Guangdong and Fujian. The festival starts on the 5th day of the 5th Lunar month and three of the most commonly practiced activities are eating Zongzi (粽子), drinking wine and racing dragon boats.
You may wonder why the Chinese eat Zongzi (粽子) and race boats during the festival (of course no need to mention why they drink wine!) This custom actually began after the death of our poet, Qu Yuan. Qu Yuan (who also happened to be a royal advisor) tried to warn the king of Chu about the growing threat of their neighbors in the kingdom of Qin. He informed the king that the Qin were quickly expanding, and would eventually lay claim to their domain as well. The king, along with the other royal advisors, condemned Qu Yuan for spouting such nonsense and had him quickly exiled.
Eventually, however, Qu Yuan's woeful prophecy came to pass, and the kingdom of Chu fell to The Qin opposition when they took the capital city of Ying. Upon hearing the news, a now outcast Qu Yuan tearfully threw himself in the Miluo river. Before his death, he penned the poem "Lament for Ying" (哀郢 ) in honor of his now fallen homeland. When the news reached those who once so foolishly doubted him, they threw their hands up in grief and raced their boats to the Miluo hoping they might find his body. The local people who had also grown fond of the now deceased poet also threw balls of sticky rice into the river hoping that the fish would eat them instead of the body of Qu Yuan.
As macabre as that origin story may seem, it gives us an excuse to eat zongzi until the seams of our pants burst! These bad boys are made from glutinous rice (or sticky rice) and are stuffed with a number of different fillings depending on the region. In Northern China, people mostly use red bean paste and taro. As a result, these zongzi are usually more of a dessert as opposed to a savory snack. The Southern style, however, is saltier and is usually filled with duck egg, pork belly, Chinese sausage, pork fat and shiitake mushrooms. Regardless of whether they are sweet or salty, they're still boiled for a few hours before they serving.
Photo Cred: Kim Bui
There are several types of Zongzi:
The first is Jiaxing zongzi" (嘉兴粽子). These are generally found in Mainland China and are named after the city of Jiaxing. They are typically filled with pork, red beans or salted duck eggs.
The second is Jia zongzi (假粽). These generally use balls of glutinous rice flour as opposed to regular glutinous rice. This style is typically much smaller and stickier than the first.
The third is Jianshui zongzi (碱水粽). These are eaten as a dessert as opposed to as a part of the main meal. Jianshui either has no filling or are full of sweet red bean paste. They are often eaten with sugar or light syrup.
The fourth and final is Nyonya chang (娘惹粽): These are more like the southern style zongzi we mentioned. They are usually filled with minced pork, candied winter melon, ground roasted peanuts, and a variety of spices.
Dragon Boat Festival is one of my absolute favorite festivals in China! I once had the chance to experience making zongzi while having a nice chat with some Chinese friends about some of the annual traditions. As lovely as that experience was, eating the fruits of my labor was admittedly the best part!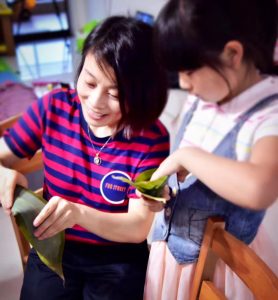 Photo Cred: Kim Bui
If you happen to be in China during the celebration, get your party face on and be prepared to immerse yourself in the incredibly festive atmosphere… and make sure you're hungry too because there will be A LOT of zongzi!
How to make Zongzi and the History of The Dragon Boat Festival.
Angel Wong's Kitchen: https:

Vietnamese roots, educated in UK and a current Hangzhou- based freelance writer. A nature lover, ice cream addict and happy itchy feet. Her fave ChinesePod lesson:Describing personalities in Chinese.