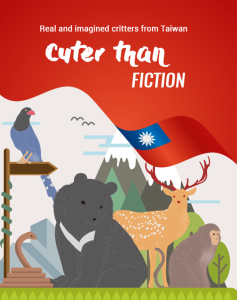 Taiwan has become world-famous for its delicious mouth-watering night market snacks (xiǎochī | 小吃), cheap shopping, and friendly well-mannered locals. But visitors to the island usually end up discovering one other excellent word to describe Taiwan: CUTE. Taiwanese people love cute things. And what could be cuter than furry, cuddly animals, both of the stuffed and real variety? In Chinesepod's lesson on rare and exotic animals (xīyǒu dòngwù | 稀有动物), we learn how to discuss in Mandarin our favorite furry friends, from extinct dinosaurs (kǒnglóng |恐龙) to fierce bears (熊). But you may be wondering, what exotic animals can you actually find in Taiwan? During my recent trip to Taiwan, I encountered a few animals, albeit some real and some fictional, which really stood out during my visit. Below I will introduce 5 "exotic animals" of Taiwan that you need to meet.
Meet Hello Kitty
Whether you're flying or you're riding the rails across Taiwan's diverse landscape, you're bound to come across Taiwan's most famous cat. Of course, it's no other than the fictional Hello Kitty, (Kǎi dì māo|凯蒂猫, actually originating in Japan. Hello Kitty has famously become the informal brand ambassador and face of Taiwan's most well-known airline, EVA Air. At the Taipei Taoyuan Airport, if you fly EVA Air, you can use their all-pink Hello Kitty check-in kiosk, and even fly their Hello Kitty airplane to select destinations, mainly in Asia. Not flying anytime soon? Well, if you're traveling to Taiwan's scenic East Coast, take the 2-hour Taroko Express train to Hualian, and ride the all pink and white Hello Kitty train.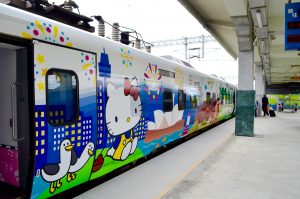 When you arrive back in Taipei, you can even check out Hello Kitty's very own theme restaurant. Watch BBC's introduction of this restaurant (which also includes other theme restaurants popular in Taiwan).
Meet The Elusive Moon Bear
There's a new animal in town and he's giving Hello Kitty some stiff competition. Everywhere you look these days in Taiwan, he's there: staring at you on the back of the train seat, on advertisements highlighting Taiwan tourism across the island, and in stores selling trinkets and souvenirs to take home. No, it's not Rilakkuma bear, though he's quite loved in Taiwan as well (there's even a giant stuffed statue of him at the Taipei Main Station). He's none other than the not so well known moon bear, formally named the Formosan Black Bear (Táiwān hēi xióng | 台湾黑熊.  Except he's not exactly new. In fact, he's been around for over 500,000 years, according to fossil discoveries from the island.
When I lived in Taipei in 2012, I didn't even know bears existed on the island. I hiked mountains, I traveled across the island from north to south, and visited the East Coast, but the only exotic animals I ever came across were those clever primate cousins of ours you will meet below: monkeys. During my recent visit to Taiwan, the first trip back since 2012, I was quick to see that some things had changed over the past 5 years. One thing was evident. There was a new face representing Taiwan and it was the Formosan Black Bear with the signature white v-neck marking on its chest, an animal only found in Taiwan, and very different from other black bears in the world.  He's easily identifiable by his crescent-moon shaped natural marking on the chest, thereby earning the nick-name "moon bear" or "white-throated bear".  However, it is very unlikely to ever come across him in the wild. Not only is he shy by nature, he is also endangered, as a result of decades of over-hunting and habitat destruction due to deforestation. While appearing to be cute and cuddly, like other bears, the Formosan Black Bear is also very fierce, fast, and strong. He sits atop the ecosystem in Taiwan, and is currently the strongest predator since the Formosan clouded leopard (introduced below) was declared extinct several years ago. Let's not let our beloved moon bear share the same fate!
Meet the Sleeping Bear-Cat
Combine the above two animals and what do you get? A cute and cuddly (but also fierce) bear-cat or xióngmāo| 熊猫), of course! Sichuan isn't the only place you can see those adorable black and white eyed fur balls everyone knows and loves!  Taipei Zoo's main attraction is their two giant pandas, Tuan Tuan and Yuan Yuan, and their newest addition to the family – the almost four year old female cub named Yuan Zai, whom visitors flock to watch!  As visitors crowd around to snap photos of these three cuddly bears, you can also whip out your smart phone and find out what their secret wish is in Chinesepod's hilarious lesson on Pandas below:
https://chinesepod.com/lessons/the-pandas-secret-wish
You can also watch the Panda cub, Yuan Zai, learn from her mom! Try to follow the funny Mandarin narrative in the video:
Meet the Clever Monkey of Jade Mountain
In the year I lived in Taiwan, the only exotic animals I came across or even heard of were the monkies at Jade Mountain (Yùshān |玉山) who tried to climb into our car while watching the sunrise. The rare Formosan Rock Macaque (Táiwān míhóu |台湾猕猴) is endemic to Taiwan, and Taiwan's only native primate, aside from humans.
But don't think Jade Mountain is the only place you'll encounter this clever monkey. In my recent trip to Taiwan, while biking along the East coast from Hua Lian to Tai Zhong, I was surprised to encounter yet another monkey who jumped out from the trees along the road and scurried across the street, nearly knocking us off our bikes!
Finally, if you're brave enough, climb Shòushān| 壽山, near the southern city of Khaosiung |高雄, also known as Monkey Mountain! It's known as a reserve for thousands of Formosan rock macaques, who are rarely shy around hikers! If you do go, just remember to guard your belongings because these guys have been known to pick a pocket or two!
Meet the Extinct Clouded Leopard of bygone years
As mentioned earlier, the Formosan black bear is now solely the most powerful animal on the island of Taiwan. After a 13 year search for the Formosan clouded leopard (Táiwān yúnbào| 台湾云豹), they were sadly declared extinct. However, there are still those out there who believe the elusive clouded leopard still exists in small numbers, and perhaps has merely outsmarted humans and our attempts to catch them on camera. Regardless, nowadays your best bet to get a glimpse of this mysterious animal is resorted to seeing the stuffed clouded leopard at the National Taiwan Museum. (Source: http://focustaiwan.tw/news/asoc/201304300027.aspx).
While not all of the five animals introduced above are real, nor do they all originate in Taiwan, these animals have been selected as those which best represent the essence of Taiwan and its diverse culture. Of the animals listed that are native to Taiwan, the Formosan Black Bear and Rock macaque represent two wild and rare animals native to the island and continue to exist in the wild. The Clouded Leopard represents Taiwan's exotic wildlife of the past and the realities of urban development, as faced by almost every other part of the world. And Hello Kitty and the pandas are… well… just adorable!
Which animal do you find most captivating? What other animals would you add to the list? Share your thoughts in the comments below.
---
To learn more about pets, check out our playlist:


Eng Chan is a Finance and Business Operations professional, with a passion for language learning and writing on the side. As a Canadian-born Chinese, whose first language is English, she became interested in learning Mandarin during university. Since then, her passion for learning the language took her to Taiwan, where she credits most of her Mandarin fluency. Eng is an avid traveler, who loves to experience different cultures and cuisines.Her favourite ChinesePod lesson is Meditation 冥想 -- a hobby that she recently took up.