Language learning is a dynamic process: it isn't all about listening to a podcast or endlessly writing characters; it is also about finding the confidence to converse with native speakers.  Finding a native speaker to practice Mandarin with can be a struggle. This can be quite discouraging when all you want to do is practice the language that you are working so hard to learn! Never fear: thanks to modern technology, you now have HelloTalk to add to your language learning arsenal.
HelloTalk meets at the crossroads of a instant messaging mobile app and a passionate language learning community. It's a free app, available on iOS and Android, that instantly connects you with like-minded people who want to learn another language. Read more for our in-depth review of the app, as well as a special download link!
Getting Started
Alright, first things first: creating your profile. When you open the app for the first time, you will be prompted to enter your information, including the language you speak/teach, along with the language you would like to learn. The free version only allows you to select one language, but upgrading to Premium gives you the option to learn additional languages. There are a couple of quick tips I have for making your profile stand-out:
Make sure to fill in your self-introduction: adding your own personal flair will make your profile more appealing and help you match with language partners in-line with your personality and interests
Remove yourself from searches in the settings: I have been using the app for roughly three weeks and I currently have over 50 people in my language partner request list. I thought I had to accept every request at first (you don't) — this can get overwhelming so I suggest removing yourself from searches and finding partners yourself.
Let's get to Talking!
Simply chatting with your language partner is as easy as using any mobile based texting service…but it's optimized for a language-learning focus. Try this short exercise for an easy way to translate a word into Mandarin:
Type a sentence in English

Long hold on the sentence and select the option that looks like an

A turning into a 文

which will provide the Chinese directly below your sentence

Long hold on your Mandarin translation and select the option that looks like a

文 turning into a Hao

: now you can read the pinyin on your translation!

From there, long hold on the sentence again and click the

Star

to save it to your vocabulary favorites list.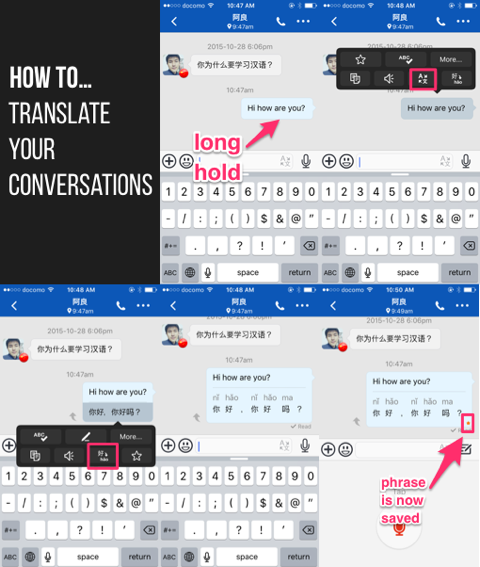 Speaking Practice, Made Easy
Transcription is one of our favourite features: leave a voice message and long press the text bubble to choose to display the text. You also will have the option to translate that text into Chinese. Also, if your partner sends you a voice message in Chinese, you can translate it into pinyin and English.
One awesome way to utilize ChinesePod with this feature is by practicing your Mandarin dialogue. Try using sentences you have just learned  from one of our lessons and get instant feedback on your Mandarin pronunciation from your partner.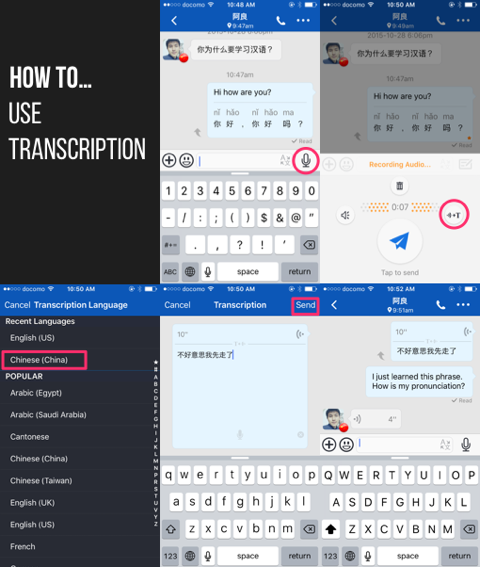 Corrections
When you or your language partner make a grammatical mistake, you can correct the sentence directly. This is useful as it saves you from having to re-type the correct sentence, and gives the user a red X over their sentence, with your sentence displayed with a green checkmark.
Try using the expansions provided in ChinesePod lessons to create your own sentence, then follow up by asking your partner if it is correct. If not, they will happily correct the sentence for you.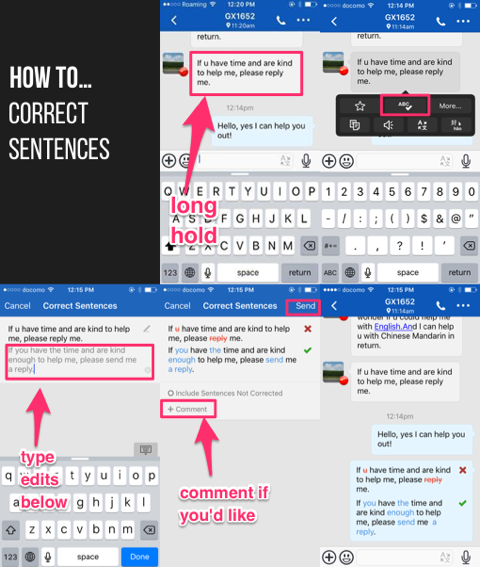 Share your life in pictures
Learning a language is just as much about learning the culture. This app allows you to share photos with your language partner and vice versa. My partners have given me a look into their everyday life in China, including their neighbourhood and cultural celebrations. It's a feature that adds a personal touch that will enrich your language learning.
Get HelloTalk VIP Status!
We have partnered with HelloTalk to hook our fans up with a special 3-months VIP membership for free. Download the app and once you are registered, send the message "ChinesePod" to the HelloTalk Team via the HelloTalk app to receive your gift! You will love using the app and it will enrich your studies — whichever way you choose to approach learning Mandarin. Give it a try by clicking the button below!


Natasha Davis is an Executive Project Manager with ChinesePod in Tokyo, Japan. She graduated from Florida State University but is originally from New York City. Because of her interest in the Chinese community in Harlem, she was inspired to learn Chinese from a young age. After graduating FSU, she spent two years at Tianjin University of Technology in Tianjin, China, learning Mandarin Chinese. She is most interested in Chinese business, food, language, and is currently at an upper-intermediate level. Her favorite Channel on ChinesePod is Qing Wen, and her favorite lesson is Saying You're Angry. She is also interested in travel, vegetarian food, and graphic design.

Latest posts by Natasha Davis (see all)