I started learning Mandarin when I was 14, and I'm about to turn 22 years old. Based on the sheer number of years I've been studying Mandarin, you'd think I'd be at an advanced skill level.
In reality, I'd place my Chinese literacy and fluency at a lower intermediate skill level. My main problem? Sporadic gaps that I have taken over the course of my Chinese education. I never really kept up with learning the language during summer breaks in high school, and in college I took a few semesters off from my Chinese courses.
These breaks proved to be very costly. When I'd finally gotten back into the groove of taking classes again, I'd sometimes find myself drowning because my foundation with the basics is quite shaky.
This happens to all of us, though. We go through ups and downs, turbulent times versus peaceful times, and as a result, it can be easy to get derailed in learning a language. As someone who has faltered in the past, I wanted to share with you three tips I've learned for getting back into the swing of learning Chinese after you've taken a break.
1. Emphasize what you already know
Though I'm not the best student in the advanced Chinese course I'm currently taking, I'm oftentimes surprised by the amount of knowledge I do have.
If you've taken a few Mandarin courses, but find yourself coming off a break – focus on reviewing what you already have learned. Wading into new, intimidating material will be discouraging — which will ultimately result in you quitting again!  
One great method I have found for reviewing what I have already learned is by listening to ChinesePod's elementary and newbie lessons. Not only are they easier to comprehend, but they are helpful at reinforcing my pre-existing knowledge base. This review technique helps me feel completely confident when I tackle new, challenging material.
2. Develop a routine
The reason I took breaks in the summer from studying Chinese is that I never really established a routine of learning. Get into some good habits. Listen to ChinesePod once a day. Make ten flashcards every evening. Read some Mandarin dialogues before you go to bed. It's these small, daily rituals that have helped me maintain my fluency level. Just like how you have to exercise daily if you are to see any progress, your brain also needs to be stimulated a bit everyday in order to properly learn a new language.
I've gotten into the habit of buying cheap character workbooks on Amazon. Just jotting down five characters a day a few dozen times can really do wonders for your muscle memory when it comes to writing.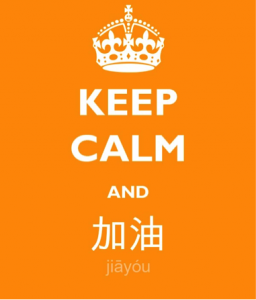 3. Take more constructive breaks
We all need breaks. We just don't need to take such a long break from learning Chinese that it becomes counter productive. Maybe after writing and listening to Chinese a few days in a row, take a day off. Let your brain soak in all of the knowledge that you've been working so hard to acquire. Studying too hard too quickly is a recipe for burning yourself out. It's better to move at a more deliberate, and steady pace. Maybe listen to three intermediate ChinesePod lessons in the week, and then over the weekend tune in to an easy elementary one you're already familiar with. Also, have a look at ChinesePod's Qing Wen videos… they teach useful explanations on parts of the Mandarin Language that you generally wouldn't learn in the classroom.
I hope you find these tips for getting back into the swing of your Mandarin education useful. Just remember to hang in there, and never give up! 加油!
What do you find helps you stay on track with your Mandarin studies? Leave us a comment with your own tips that you find useful!

Karl graduated from Tulane University in New Orleans but is originally from Seattle, WA. He is a new learner of Chinese, and enjoys comparing the similarities and differences with learning Japanese, a language he studied for six years. Karl is interested in literature, long-distance running, skiing, hiking, and cycling... and cheese. He loves cheese. In fact, his favorite ChinesePod lesson is "Smelly Cheese".

Latest posts by Karl Ryan (see all)