Practice makes perfect, right? Well, when it comes to learning Mandarin, you're never going to be perfect… and that's okay! In many ways learning Mandarin is like paddling a boat upstream: it is a journey that requires hard work, determination, and patience. However, there is a review method I learned in high school that has become a vital addition to my Mandarin studies: keeping a Chinese diary. Keeping a simple diary in Mandarin makes learning fun and also establishes a consistent routine.
So what do you need to make a Chinese diary? Well, obviously a notebook, a pen, and ChinesePod definitely helps. What I like to do is fire up a ChinesePod lesson, and then use my diary to reinforce the lesson as I go along with the podcast. Read more for four ways to get started on your very own Chinese diary!
1. Practice writing the date

Every diary entry starts with a date: It might sound simple, but it is surprisingly easy to forget this seemingly basic concept when it comes to writing a date in Mandarin. Mandarin time expressions are ordered from largest to smallest and this is something that proves rather confusing to those used to ordering time differently. For example, Mandarin time expressions place the year first, not the month.
I also constantly forget how to write 零 or 0, and writing the date in Chinese everyday really helps this stick.
2. Review Vocab

Select your favorite ChinesePod lesson or a lesson that you have recently studied. Check out the vocabulary list for the selected lesson, and write each word two or three times. This will help you review key terms and expand your vocabulary before you move on to future lessons.
3. Practice Grammar Structures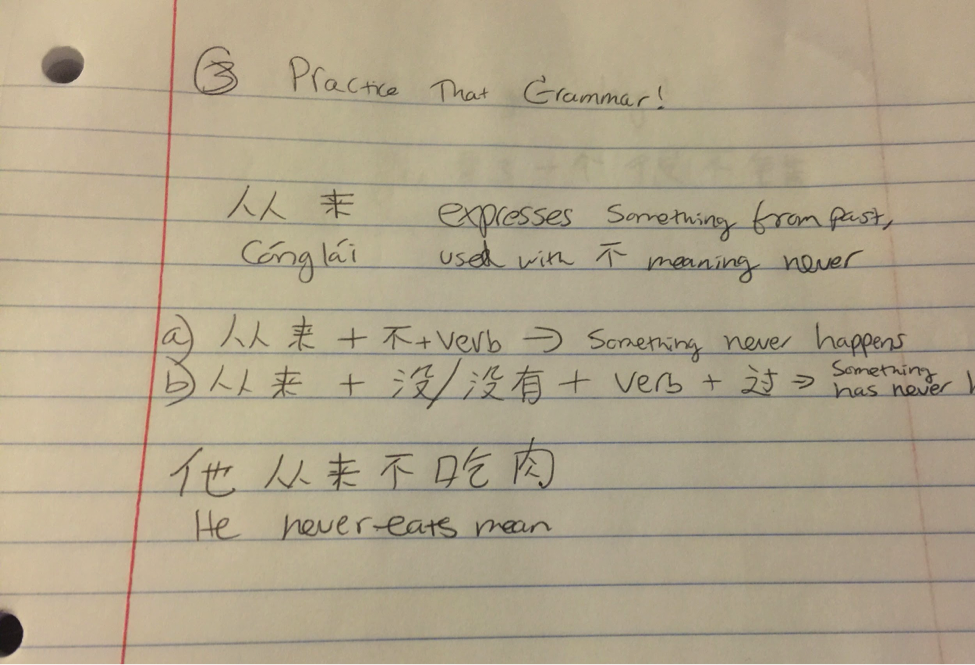 Chinese grammar doesn't come intuitively to English speakers… but that's okay! My biggest hurdle in progressing from an intermediate to advanced Mandarin level is that I struggle to remember basic grammatical structures at times. Reinforce these structures by picking a couple sentences from a ChinesePod lesson, write them down, then analyze how the grammar works in comparison to its English translation.
4. Write about your day!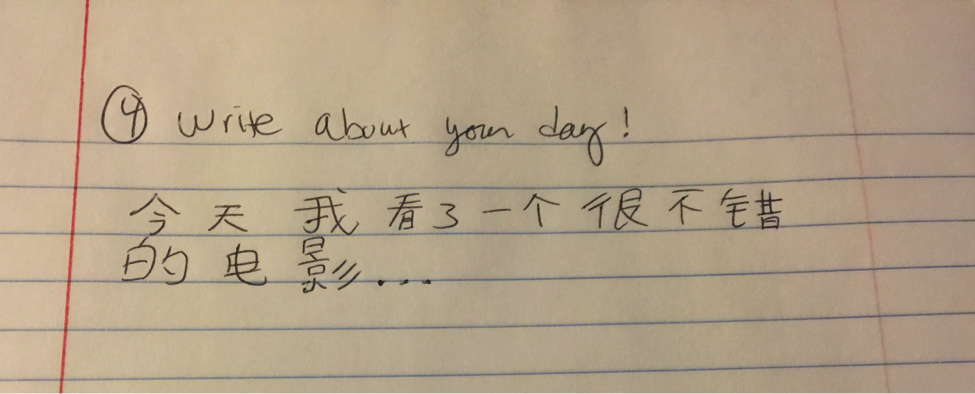 And of course, the quintessential reason for keeping a diary… daily reflection! As you become more comfortable with Mandarin, you'll be able to record increasingly complex ruminations in your Chinese diary. Don't beat yourself up if you can't write a verbatim account of your every waking moment from the beginning. That'll all come with time.
I hope that this exercise proves useful in your study of Mandarin. It is important to consistently reinforce what you're learning in school, with friends, or with ChinesePod… and I have found that keeping a Chinese diary is an easy and fun way to accomplish this.
What do you to review Mandarin on a consistent basis? Leave us a comment, we are curious to hear what works for you! 再见!
Learning Chinese is much easier when it's on your own terms. Get immediate access to the largest online library of Chinese lessons with our exclusive blog offer. Click the button below and start mastering Mandarin!

Nick Norton is twenty two year old college student majoring in Asian Studies at Wayne State University in Detroit Michigan. Nick has always been interested in China - both its language and its culture. In high school, he had the opportunity to study Mandarin, and decided to stick with it in college. His goal is to just be conversational in Mandarin. He would classify himself as roughly an intermediate student. Nick's favorite lesson is the elementary lesson "I Need to Take a #2" which focuses on a topic that definitely wouldn't be covered in a normal textbook! It's great to expand your vocabulary into real world scenarios. Nick enjoys reading, writing, or just chilling out and watching movies on Netlfix. He also teaches yoga, and loves riding his bike through Detroit's urban landscape.

Latest posts by Nick Norton (see all)