Mid-Autumn Festival 2016 is happening today, Sept 15. It is the 15th day of the 8th month in the lunar calendar. This festival , celebrating the harvest, is one of China's 3 most important festivals along with 'Dragon Boat' festival and 'Chinese New Years'. Regardless of whether you have a penchant for Chinese culture or not, the festival should be familiar to you, or at least you should have come in contact with the popular food item 'Mooncakes' (Not? Have you been living off the grid all these years?).
ChinesePod is celebrating along with the rest of the Mandarin speaking world, and we have some festive content waiting for you! Here is our content selection for Mid-Autumn Festival 2016.
Festive Mid-Autumn Foods
Everyone knows that mooncakes are popularly eaten during the Mid-Autumn festival, on the night of the full moon. But what is the festival all about? The festival was foremost to celebrate the harvest season. In 2016 it will be celebrated on the 15th of September, which is coincidentally also the 15th day of the 8th month in the lunar calendar. Besides mooncake, there are many other delicacies that are traditionally eaten on this special night! Here are a few (watch our video on YouTube):
Mid-Autumn Grammar and Vocab
If, on this holiday, you would still like to put your grey matter to use and give the ol' brain a workout, you can watch our Mid-Autumn language lesson about 'Munching on Mooncakes'.
Mid-Autumn Playlist of Awesome Lessons
ChinesePod has also compiled a playlist of amazing content; previous lessons covering the spectrum of topics and themes related to Mid-Autumn festival. Want t learn about the mythology behind the festival? Are you curious what gifts to buy your colleagues? Or were you planing on getting some cosmetic surgery (Yes we do have a lesson about cosmetic surgery and mooncakes)?
Watch the lessons here:

Mid-Autumn Discount
Not a subscriber? Use the code MOONCAKES to get $50 discount on our premium annual subscription at checkout https://chinesepod.com/pricing/annual/.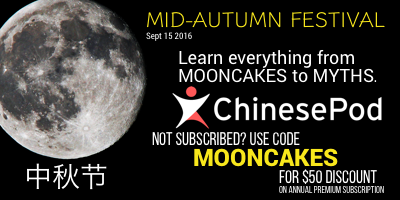 Lianca traverses the globe as a digital nomad but inevitably always end up somewhere in Asia. This is weird because, even though they have the best cuisine, the clothes don't fit her tall frame (pretty frustrating for a shopaholic). Her favourite ChinesePod lessons is 'How to Really Exaggerate Your Chinese' AKA 'Wolverine is soooo hot'.

Latest posts by Lianca Van der Merwe (see all)