Gifting red envelopes (红包 hóngbāo) stuffed with cash to family and friends is one of the most ancient customs of the Spring Festival. But with the invention of social media, the long-standing tradition developed a new face — a digital one.
China's largest Internet giants, Tencent and Alibaba, created virtual red envelopes, enabling smartphone users to exchange money gifts with just a few taps. This invention, simple as it sounds, has transformed into a digital phenomenon that has made people spend more and more money online, shake their smartphones for hours on end, and wander the streets and shopping malls in search of mysterious objects.
Virtual red envelopes (红包 hóngbāo) (also known as Lucky Money 利市 lìshì) have also turned into a real battleground between the aforementioned digital giants for the lion's share of an actively developing mobile payment market. This battle has even earned an unofficial name — (红包大战 hóngbāo dàzhàn).
Before we get into the gory details, I thought I'd give you a brief introduction of the two companies.
Alibaba Group(阿里巴巴 Ālǐ Bābā) is a huge ecommerce platform known globally for its business-to-business portal Alibaba.com, as well as the online retail services Aliexpress and TaoBao (淘宝网 Táobǎo Wǎng).
The group also has an online payments system Alipay(支付宝 Zhīfùbǎo), which controls about a half of China's online payment market.

Alibaba's rival Tencent(腾讯控股 Téngxùn kònggǔ), which in Chinese literally means "soaring information", owns two of the world's largest messaging apps — QQ and WeChat. Following the smashing success of WeChat, Tencent shifted their focus to the mobile payment market, and created their own digital wallet, WeChat Pay (微信支付 Wēixìn zhīfù). The wallet allows to transfer money between WeChat users and make online payments.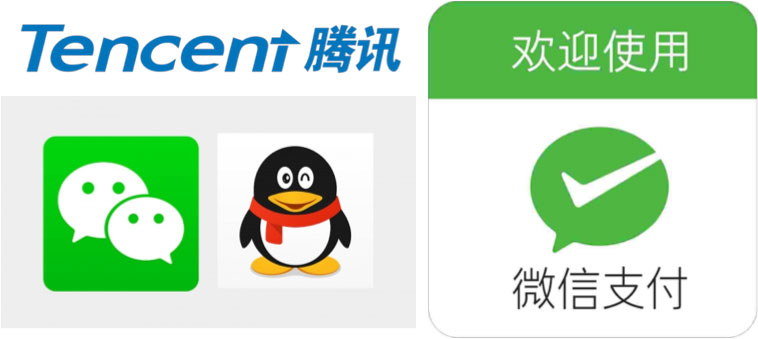 It's worth mentioning that China's online payment solutions are very advanced. Instead of credit cards, they Chinese use QR codes (二维码 èrwéimǎ) on their smartphones to pay for all kinds of goods and services — transpotation, groceries, movie tickets, flights, and a lot more. Pretty neat, huh? No need to carry around bulky wallets with cash or multiple credit cards. To confirm the payment, the vendor simply scans the QR code embedded into WeChat Pay or Alipay.
The Battle Begins
So when digital payments (移动支付 yídòng zhīfù) started gaining steam, Tencent decided to get its own share of the market and win over some of Alipay users. To get more visibility for their payment feature, during the 2014 Lunar New Year celebrations, Tencent launched the first digital version of red envelopes through WeChat — the WeChat Lucky Money (微信红包 Wēixìn hóngbāo).
Here's how it works. To greet someone online, you just need to click the Red Envelope button in the app, and the selected number of virtual credits will be immediately transferred to your friend or family member. To deposit the money and pay with the received credits, you need to have a WeChat Pay account linked to your bank account.
The WeChat Lucky Money quickly gained popularity, not least thanks to the Lucky Draw Red Envelope. This feature allows you to send a red envelope with a lump sum to a group chat (微信群 Wēixìn qún), and then each chat member receives (领取 lǐngqǔ) a random (随机 suíjī) share of this amount. The whole process is very entertaining and feels somewhat like gambling, so it's hardly surprising that it spread like wildfire.
Of course, Alibaba couldn't just sit and watch Tencent's red envelopes gain momentum, so they gave their own twist to the custom and started handing out red envelopes and virtual coupons to the viewers during the Spring Festival Gala (春节联欢晚会 Chūnjié Liánhuān Wǎnhuì), the largest entertainment show in the world that CCTV has broadcast on New Year's Eve since 1983.
The Shaking Madness
WeChat didn't take long to fight back and responded with a game-changing campaign. In 2015, Tencent partnered with the Spring Festival Gala to announce the WeChat Red Envelope Shake (微信摇一摇红包 Wēixìn yáo yī yáo hóngbāo). During the TV show that lasted nearly 5 hours, the tech giant was giving away money-filled gifts to the enormous audience. For a chance to snatch a Red Envelope (抢红包 qiǎng hóngbāo), WeChat users had to vigorously shake their smartphones at certain points during the show announced by the host.
And because the show was broadcast live online, the phone shaking craze spread across 185 countries. During the peak of activity, there were 800 million shakes per minute! To increase their chances to win red envelopes, some people would shake multiple devices at the same time, holding them in their hands, feet, mouths, and, ahem, some other body parts too.
Alibaba later likened Tencent's 2015 Red Envelope campaign to the Pearl Harbor Attack. In 2016, the company came up with yet another hongbao strategy — the Lucky Card Collection (集五福 jí wǔ fú). Everyone who managed to collect (集 jí) all five lucky cards was promised a generous gift of 30,000 yuan from Alibaba Group.
Collecting the first three cards was easy: you just had to "friend" ten people on Alipay. As for the remaining two cards, you could obtain them by exchanging cards with friends. Naturally, the last cards were the hardest to find.
The Lucky Card Collection was Alibaba's attempt to include a social factor into Alipay, which WeChat had had from the get-go.
In the end, Tencent's Red Envelope promotion worked far better than Alibaba's. Since the time Tencent launched its first virtual red envelope campaign in 2014, WeChat Pay has more than doubled its market share. And even though Alipay still owns a half of China's mobile payment market versus WeChat Pay's 32.1%, more and more users turn to WeChat drawn to the social interaction it offers.
Red Envelopes Go AR!
Nevertheless, the Red Envelope campaigns drove massive engagement for both platforms. Back in 2014, only 5 million people exchanged virtual red envelopes, but during the 2016 Spring Festival, this number grew to a whopping 516 million.
Obviously, everybody thought the tech giants would continue leveraging the Red Envelope tradition. However, against expectations, at the end of 2016 both Alipay and WeChat stated that they didn't have any plans for lucky money in 2017. They believed the game had already surpassed its peak popularity and was not likely to contribute to noticeable business growth any longer.
And then they changed their minds. Inspired by the explosion of Pokemon Go, Alibaba and Tencent also decided to employ the augmented reality technology and location-based services to breathe new life into their virtual red envelopes.
Alibaba moved the Red Envelope War back to the offline realm by launching their AR Red Envelope (AR实景红包 shíjǐng hóngbāo) feature.
Tencent followed suit and announced that their QQ Wallet (QQ钱包 qiánbāo) was going to have QQ AR Lucky Money.
In Alipay's AR Red Envelope game, you have to go outside and use your mobile device's GPS functionality to find red envelopes hidden for you by someone else (找红包 zhǎo hóngbāo). To hide your own red envelope, you need to click (点击 diǎnjī) the Red Envelope button and select "Hide an AR Envelope" (藏红包 cáng hóngbāo).
Next, you have to fill in (填写 tiánxiě)the information about the envelope location, set up clues, the amount of money you want the envelope to have (金额 jīn'é), and the recipient. The final step is to share your hidden envelope with whoever you want to find it.
Have a look at what the process of finding an AR Red Envelope looks like in this video:
https://www.youtube.com/watch?v=d2OOIKWczEA
Just like Pokemon Go, the AR Red Envelope has the potential to help local businesses increase client traffic. To hide an AR Red Envelope as a business, you need to apply to Alipay, and then set up your own envelope with either vouchers or discount coupons.
Alipay's Lucky Cards game caught the AR virus as well. To get a card in 2017, you need to find and scan the 福 character somewhere outside — a shopping mall, for instance.
The logic, however, remains the same: the more friends you add on Alipay, the more chances you have to exchange the cards and get rewards.
Nothing Beats the Real Thing
To get some real people's opinions on the AR envelopes, I asked a few of my friends from China what they thought about the whole thing. They all agreed that the game hasn't become that popular yet — definitely not as popular as Alipay expected. Driven by curiosity, some Chinese users gave the game a shot, but they quickly gave it up as finding one of these envelopes takes a fair amount of time, while the amount of money you can win is almost always ridiculously small. So now it's mainly local businesses that use the game in hope to attract more clients.
It's obvious that no game is going to make the Chinese forget about the old tradition of presenting each other with real envelopes. Exchanging digital gifts is more of a trendy way of greeting friends and relatives, but many people feel rather skeptical about it, which the video below shows very well. If you want to show real appreciation or love, drop your phone, get a red paper envelope, put a few crispy banknotes inside, and wish your nearest and dearest happiness and good luck in the coming year.
I want to say a big "thank you" to my friend from China 李春雷 who helped me create this post.

Elena is a digital marketing manager who has been learning Chinese since 2012. She believes her family tree has Chinese roots, and whether she has Asian descent is one of the most frequently asked questions she gets. The expression 辛苦你了 is something she had always lacked in her native language. Elena's favourite lesson on ChinesePod is "Fighting over the Bill".

Latest posts by Elena Ruchko (see all)